Client Transformations and Testimonials of 2016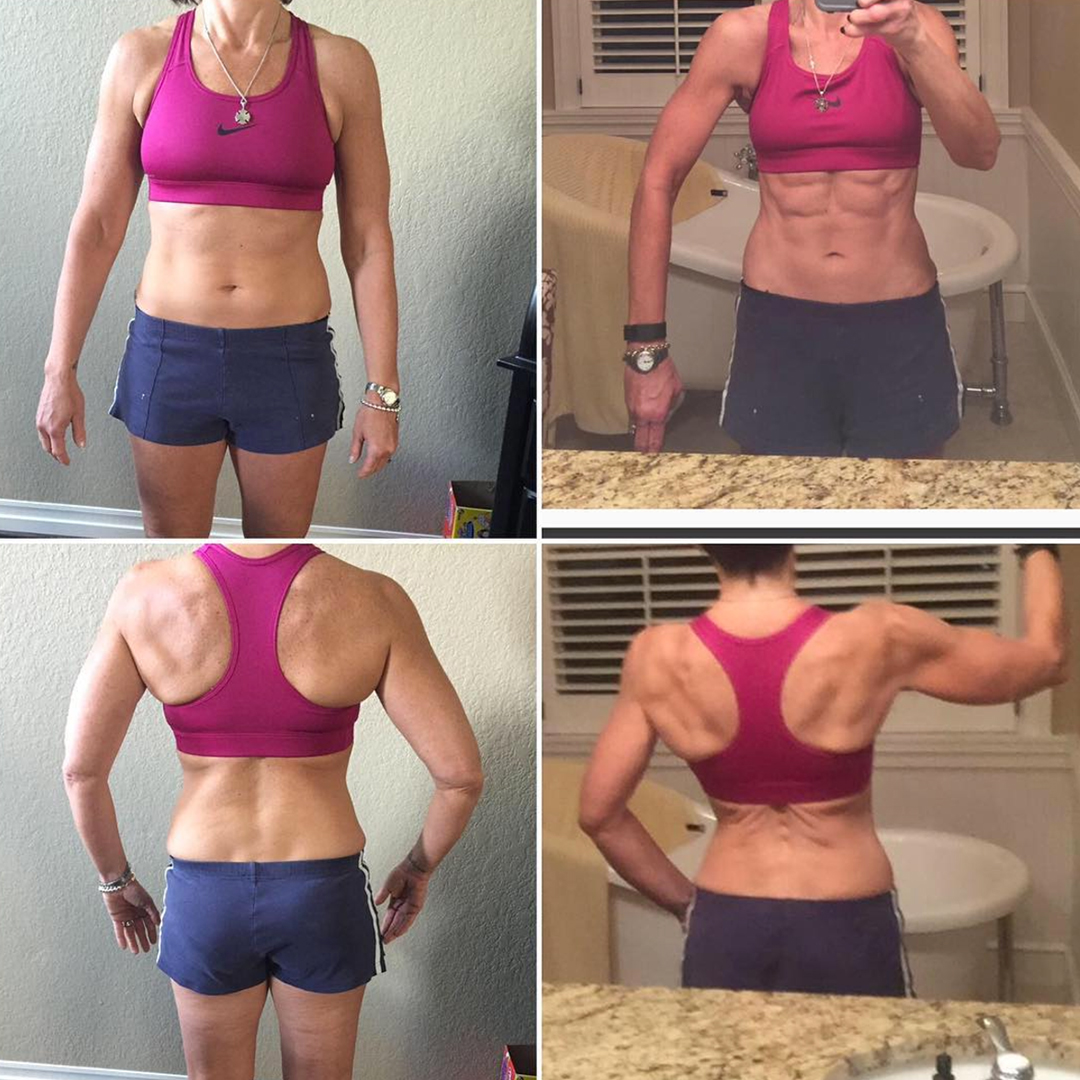 2016 has been a different kind of year. Some highlights include landing a book deal with Human Kinetics, getting accepted into grad school for psychology, starting and finishing revisions for Eat. Lift. Thrive. (due out next summer), and successfully wrapping up my first semester in my master's program.
On the business front, I've intentionally slowed my momentum down throughout the course of the past 10 months to make room to do well in school. That's admittedly been a little strange; after pushing and pushing to grow my business over the past four years, to hit the pause button feels odd.
Still, one thing I've made sure to keep up has been my online coaching. I genuinely enjoy working with coaching clients all around the world because I get the opportunity to apply what I learn and use my past experiences for good.
Before 2016 draws to a close, I wanted to take the time to put together some of my client transformations and testimonials from this past year. Enjoy!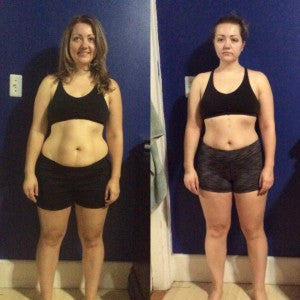 Above is a before and current side-by-side of my online client Shelly Taft (age 33) Over a 7-month timespan (and counting!), she's diligently lifted weights 4 days a week while eating in a caloric deficit.
On the left, she weighs 165lbs with a 32.75in waist and 42.50in hips.
On the right, she still weighs 165lbs, but now she has a 29.75in waist and 40.50in hips.
This is a phenomenon known as body recomposition (simultaneous fat loss and muscle gain), and it's a really sweet place to be in. Read more about it here.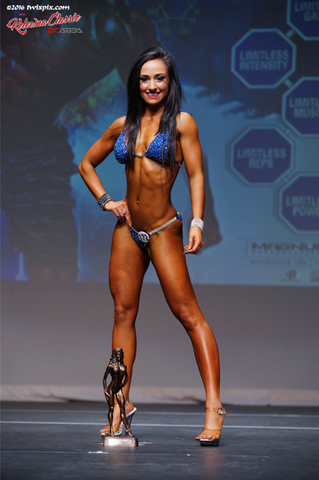 It has been a dream of mine to compete for a long time. But I was always held back due to timing and due to bad coaches. I didn't want to just step on stage to say I stepped on stage.
At this point I was following Sohee on social media for awhile and decided that there was no one better and more qualified to prep me for a show.
Working with Sohee for my first show was the best decision that I made. I have seen far too many preps gone wrong and I am happy to say that I haven't had one of those experiences. Sohee always took into account my schedule and displayed an amazing amount of support and knowledge throughout the entire prep. It was so nice not to spend countless hours in the gym and still have a life.
I will definitely be seeing her again at my next show 🙂 If you are thinking about prepping for a show but still want to maintain balance, not spend countless hours in the gym and achieve your goals… Sohee is your girl!
Krysten Novak, age 27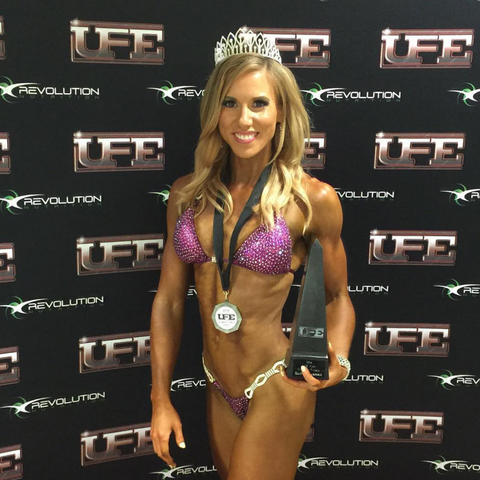 Sohee is one of the best in the business. I've been competing for 5 years now and I've never experienced the ability to be stage ready and enjoy a few treats in moderation. My bikini prep was so normal! I was simply amazed at my progress and changes without feeling like I was missing out on life.
I truly enjoyed the process. Her coaching and science based knowledge is what made competition prep fun and on top of that, it works!
Hyla Conrad, age 33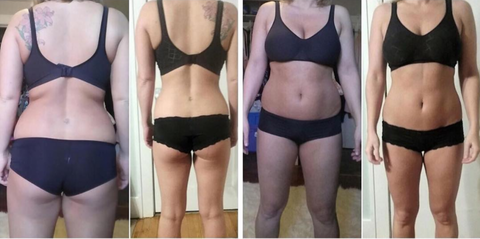 My current fat loss journey with Sohee started almost 8 months ago. I had gained 30 lbs in about 9 months and I was feeling pretty terrible. My workouts were not consistent and I was struggling with tracking my meals. I was so disappointed in myself for gaining the weight and I felt like I was never going to lose it. I felt like I was going to be fighting this battle for the rest of my life. Lose some weight, feel great, gain it all back, feel terrible. Rinse and repeat. I knew I needed help and I knew Sohee was exactly who I needed.
I have lost 21 lbs since April. I get to eat ice cream whenever I want. I can go out to eat with friends and not stress about food. I can have a margarita and not feel bad about it. My dietary adherence has not been 100% the entire time, and yes I would have made more progress if it had been, but I'm ok with slow and steady. That is the biggest thing I learned from Sohee. I don't need to make myself miserable by being deprived of the things that I enjoy. It's ok to do things that make you happy while you are in fat loss, even if that thing is a small serving of ice cream every day.
Samantha Fullmer, age 35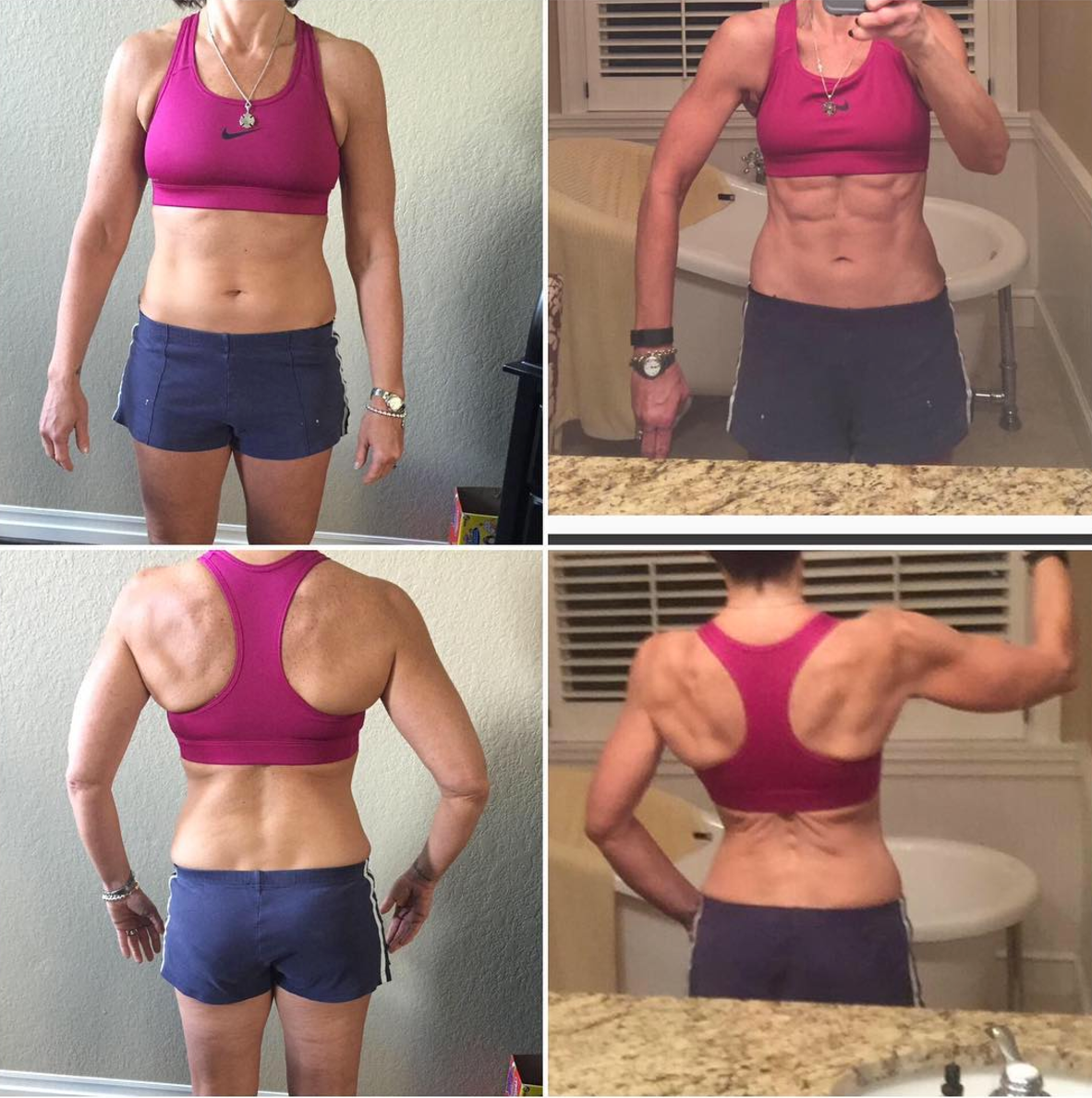 I really have to tell you that I know I've done the work, but I'm just so amazed that I have gotten in this shape without prepping for a show. Never really thought I'd get to this point without eating orange roughy and asparagus 18 times a day.
The holidays don't really scare me. Just want to let you know how much it has helped taking things slower than i wanted (but so much more worth it. I've gone on vacations [since working with you] and still have gotten to this point. and when I tell people [about my results], they really think the ONLY way to do it is to be super strict for 12 weeks or to follow a set diet plan and not eat anything else off it!
Getting to know my body and how it handles the calories have been interesting to learn. All this in 7 months has been an amazing journey so far…and I'm excited to see where else I can go. Thanks, Sohee!!
Tammy Super, age 47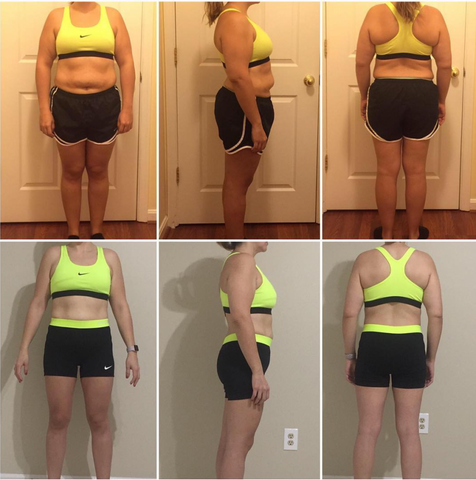 I started my fat loss journey with Sohee a year ago, and I have learn so much from Sohee and the other members in group coaching. I've been on every diet you've ever heard and yes I've lost weight but this time with Sohee it's different. Not only did I drop 4 dress sizes, but most importantly I am now confident to say that I can maintain my weight loss. Because not only does Sohee help you achieve your fitness goals, she does it in a safe, healthy and maintainable way!
My relationship with food has changed, the way I think about working out has changed. I no longer dread going to the gym because I no longer have to spend hours and hours on a treadmill.
I am throughly grateful to Sohee and I admire her dedication and her contribution to the fitness industry.
Gina Ramroop, age 36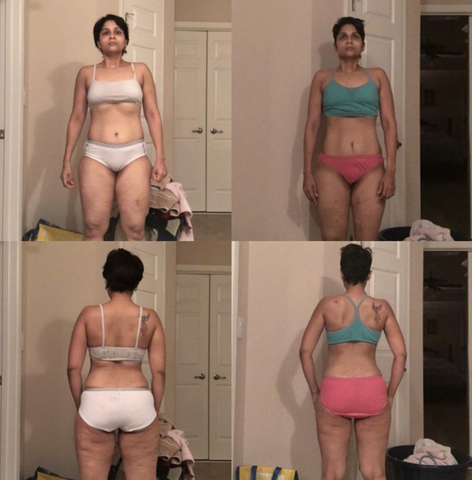 I have been following Sohee for many years now. I particularly liked how she approached everything scientifically.
I am very happy with my results thus far. I have had 100% dietary adherence with Sohee's macros. This is a big deal for me since I have a history of binge eating disorder. Not only did I lose weight but I have maintained if not seen an increase in strength. The past 4 months I have felt nothing but happy psychologically and My energy levels have been great.
I attribute my dietary adherence to the fact that I incorporated a lot of variety food wise. I love to cook. I love trying new recipes. I always make sure I incorporate a ton of veggies for micronutrient value and volume. I also treat myself to something sweet every day. I love ice cream..like LOVE…so I eat it every night. This is the beauty of IIFYM for me. Not just pop tarts and oreos but the fact that I can cook healthy nutritious meals most of the time and also have treats every day. Win Win.
Vidhya Narayanan, age 35
I have never felt more in control of my diet and exercise than I have over the past 4 months with you! I'm so fortunate to be a part of your team. My husband recently had a conversation with a local coach at his gym that works with NPC athletes. My proud husband was talking about my recent competition and this coach was actually horrified to hear that I competed drug free, as an (almost) vegan flexible dieter that did not use carb depletion or water deprivation to prep. He's a classic "bro" trainer and said that those things are necessary to get the best results on stage.
I am so fortunate that coaches like you exist and that I spent the time to research a coach who would put my mental and physical health first. I have the typical history of a bad relationship with food and my body – instead of damaging those relationships even further, prepping and competing has repaired those things. As I've previously mentioned, I'm an extremist, and have no issues adhering to even the strangest of protocols. I am certain that I would have greatly damaged myself working with the typical bro trainer.
Thank you for sharing your knowledge and for being an alternative for people like me that want to be both healthy AND fit! I'm so excited to continue this journey and to compete again in the future! As an aside, I also just love following your Instagram, you are one of the very few people in this industry that have useful and substantial content instead of endless ass shots for attention, even though you have a killer physique.
Lauren Morrow, age 33
I can't explain it but this is the best my mindset for life has ever been. Every year in one's life really does get better, and I am so excited for 2017 and every year beyond. I'm not being trite; I'm just the most content I've ever been. I haven't lost my goals to do less banking and real estate and more coaching, I'm just more readily satisfied with the pace the universe is making that transition for me.
I also love that training is really just for me right now. It keeps me healthy and re-energizes my soul time with the basics like grow my ass, shoulders, and strength. I have more time to sleep, coach, chill with kids, read, and enjoy besties — and even get some dates in now! I am so very thankful you're my coach and friend and in my life. You inspire me and you have been a big part of some of the final healing I needed in the area of embracing my vulnerabilities. Thanks for showing me self-proclaiming hot mess is perfectly perfect. XO. Here's to 2017 ass and shoulder gains and the best damn form ever.
Jenny Leonard, age 36
All my life I thought I needed extreme willpower and absolute control to achieve my fitness goals, but, what I truly needed, was to let go. I needed to change my mindset. Growing up, I was always critical of my figure and I wanted to change and fix it. After my first year in college, I was diagnosed with an eating disorder. It took nearly two years to repair most of the physical damage I did to my body, but the mental journey to a healthy mindset took much longer.
For several years after my eating disorder, I struggled with anxiety, food fear, and obsessively thought abou tmy body and my plan for achieving the perfect look. Eventually, I noticed I was spending more time and mental energy thinking and obsessing about food and my body than on all other areas of my life combined.
I joined Sohee's team in January 2015 in the reverse dieting group. I was prescribed to eat more and work out less. Every day sirens screeched in my mind warning me to stop. Every day I thought I was losing control over my body. I cried, I got angry, and I questioned whether I was doing the right things. But, I dug deep, reminded myself that my old ways were not healthy nor sustainable, and accepted the fact that change is uncomfortable. I stuck to my plan and, little by little, the obsessive thoughts that ran circles in my mind stopped and started to go away.
Once I became flexible and open to mental and physical changes I finally relaxed. I eat almost 1,000 calories more a day and I eat out minimally three times a week. I sleep through the night and I think clearly. I weigh about 8lbs more and I wear the exact same clothes I wore at 15lbs lighter. And most importantly, I'm happy.
I expect more challenges in my fitness journey. There will be days where I will feel stuck, out of control, and I will struggle mentally. However, I will continue to develop my positive mindset because I know, without a lasting mental improvement there is no lasting physical improvement for me.
Kim Silva, age 27
I've worked with other coaches in the past, but since starting with Sohee, I've never doubted that she's everything I was looking for in a contest prep coach. Sohee is always looking, listening and learning to what's going on in the exercise industry, shaping herself to her own ideals and expertise rather than trying to follow the pack.
I approach my exercise and nutrition, my macros and lifting program with excitement, and measure my progress in the calm I feel in an area of life that now holds me up where it used to drag me down.
Sohee gives me confidence that my future can be brighter, better, stronger.
Rachel Brooks, age 36