Five Happy Pounds
My mother has put on five pounds.
She and my father have been traveling across Europe on and off since this spring, you see. Or rather, they've been eating their way through Spain, Portugal, Switzerland, Germany, Austria, and now Italy.
We're convening in Milan for our annual family trip this year, and my parents are picking us up at the airport. By this point, they've been wining and dining every night for the better part of a month straight.
After a short jump to JFK airport and then a longer leg across the ocean, we groggily get our passports stamped and pick up our luggage before stumbling out to the meeting area. I look across the airport and there they are, my father walking swiftly toward us with a smile on his face and my mother not far behind him. They have their arms outstretched in anticipation of a hug before they even reach us.
Mirthful is the best word I can think of to describe how they look. My mother has a twinkle in her eye as she beams over at me, her one and only daughter. She asks about our flight as we walk toward the car to begin our weeklong adventure. She recounts stories about the operas they've been to, the sights they've seen, and the meals they've consumed. She pulls out her phone and shows me the hundreds of photos she's already taken so far. She's as lively as ever, and her energy is contagious.
Later, on the drive to the villa, she leans over to me in the backseat and whispers, with a smile on her face, that she's put on some weight since their travels. "Can you tell?" she asks. "Actually, no," I respond. And then, "How much?"
Five pounds, she replies.
But they're five happy pounds.
She laughs. And then without skipping a beat, she moves onto the next topic of conversation: the spaghetti bolognese that she's already planning on ordering for lunch.
I can't tell you how much exactly she's been eating as of late, but I can assure you that calories have been the last thing on her mind. She and my father have been having the time of their lives together. She's been living life – that's what she's been up to.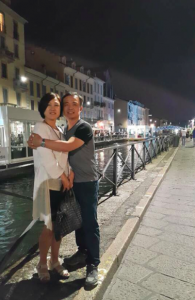 That's my mother. She's put on five pounds, and she's still as happy as ever.
The five pounds don't by any means take away from her as a person. If anything, they give her more life. I guess you could say they serve as a tangible reminder of the delicious foods she's eaten all through Europe.
My mother is carrying a little more love on her hips, but she doesn't let that faze her one bit. In fact, she doesn't dwell on it at all. She's too busy making memories and gasping over four cheese pizza to care right now.
I don't look at her any differently, and I don't love her any less. She's still as hilarious, fun-loving, and kindhearted as ever. When I see her, I don't see her extra curves; I see my mother, and she is love.
When she and my father eventually return back home to Korea, they will sit on the couch and scroll through their pictures and videos. They will reminisce on the dinners that we as a family spent gathered around a cramped table as our wine glasses clinked together in toast after toast; they'll laugh at the time we debated over whether my mother's homemade tiramisu was better than the authentic Italian dessert (I voted my mother's, hands down); they'll marvel at the miracle of the Last Supper painting; they'll chuckle at the pictures from the afternoon when the alleged "leisurely walk" unexpectedly turned into a sketchy, back-of-the-woods hike thanks to my father's incredible sense of direction.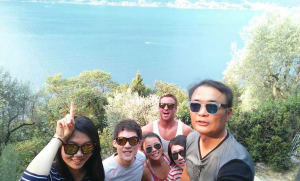 These are the memories they'll cherish and hold in their hearts forever.
And who knows? Maybe by then, those five happy pounds will be eight happy pounds. Maybe they'll be more, or maybe they'll be less.
But my mother won't remember how her clothes were a little more snug or how her cheeks were slightly more full when she smiled. No one will.
And it doesn't matter.
In time, those pounds will melt away as she returns back to real life. There's no guilt or shaming or remorse. She'll pull back her indulgences and get back to exercising a little more regularly, and sooner or later, she'll have whittled herself back into her former shape.
She will not regret those five happy pounds.