Easy Recipes: Turkey Meatloaf Muffins
I say this time and time again: if you want to get serious about your nutrition, you have to make the time to prep your meals.
While there's nothing inherently wrong with eating out all the time, healthy options are typically limited and high-protein meals are hard to come by.
With that said, I understand that the idea of cooking all, or at least most, of your own meals can seem daunting. I'm just not a good cook, you might say, or perhaps even, Who's got the time?
I get it.
I'll be the first to admit that I'm a lazy cook.
I enjoy it, sure, but if there's a recipe that calls for strange ingredients or if it involves multiple complex steps, my eyes will glaze over and I'm on the hunt for something that's stupid simple.
I love these turkey meatloaf muffins because the ingredients are simple (most you'll already have in your kitchen), everything goes into just one bowl, and the prep time is minimal. There's really no skill involved here, which is great for someone with lackluster cooking chops such as myself.
This is an adaptation of Jamie Eason's turkey meatloaf muffins. I've made these countless times by this point, each time tweaking things here and there to suit my taste a little more. You can make numerous substitutions and still have these coming out tasting delicious.
I have to be honest: the first time I added the tapioca flour into this recipe, I didn't think they'd turn out. I was backed into a corner because I had already dumped all the ingredients into the bowl, only to realize that I was missing the oats that I needed! So I dug through my kitchen pantry, pulled out the tapioca flour, and crossed my fingers that they'd be edible.
They ended up tasting amazingly moist, and I was pleasantly surprised to find that they tasted even better this way.
+1 for fortunate accidents. #serendipity
What You'll Need
2lbs 99% lean ground turkey breast
1/2 cup tapioca flour
3 egg whites
1tsp ground cumin
1tsp Italian seasoning
1tsp chili powder
2tbsp Frank's red hot sauce
2 cloves minced garlic
1tsp mustard
salt and pepper to taste
½ cup finely chopped opinion
½ cup finely chopped cucumber, zucchini, or bell pepper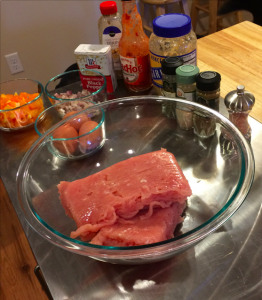 Directions
Preheat oven to 375 degrees.
Combine all ingredients into large bowl. Mix well.
Roll mixture into balls and place into pre-sprayed muffin pan.
Bake for 40 minutes.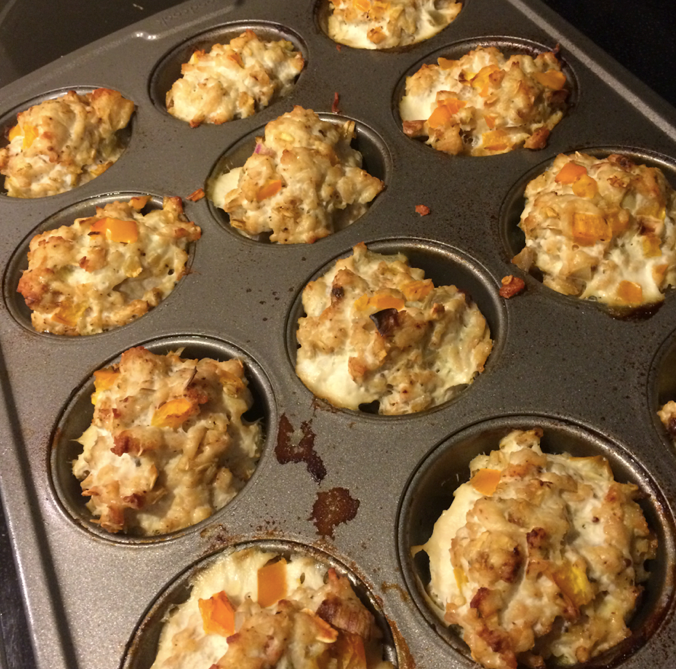 Makes 12 muffins
Nutrition information per muffin
112 Calories
16.4g protein
7.8g carbs
1.8g fats
I'm all about that bulk cooking, so feel free to double the recipe.
I make these about once a week in my house, and I'm thrilled that even my picky eater husband gives these the thumbs up. One full batch lasts around three days in my house.
We like to crumble them up into quesadillas, pair them with potatoes, or they're even great by themselves. #versatile
I typically top them with some Sriracha or salsa or dip them in some ranch dressing. I'll usually have two as part of a meal (that provides over 30g quality protein right there!), and they're surprisingly filling.
Give these a try and let me know how you like it.